Dynamics 365 and Microsoft Teams working together offers powerful new ways for everyone across an organization to seamlessly exchange and capture ideas right in the flow of work. Microsoft recently announced a new collaborative app that brings together the best of Dynamics 365 and Teams. In addition, the "licensing tax" that has historically held organizations back from this kind of integration is being eliminated.
With nearly 250 million people now actively using Microsoft Teams – and a 49 percent year-over-year increase in Dynamics 365 users – Microsoft is now allowing access to Dynamics data from within the Teams app, regardless of whether the user has a Dynamics 365 license.
Microsoft Chairman and CEO, Satya Nadella said: "Microsoft Teams is the new front end. It's where people meet, chat, call, collaborate and automate business processes – all within the flow of work."
What does this mean?
The new integrations between Teams and Dynamics 365 will enable members of an organization to seamlessly view and collaborate on customer records within Teams without the need to purchase multiple licenses.
• View and edit Dynamics 365 records right within a Teams workflow
• Easily add a Teams meeting when creating appointments in Dynamics 365 enabling access to key customer information during a Teams call
• Keep stakeholders up to date on key changes with automatic notifications delivered through chats and channels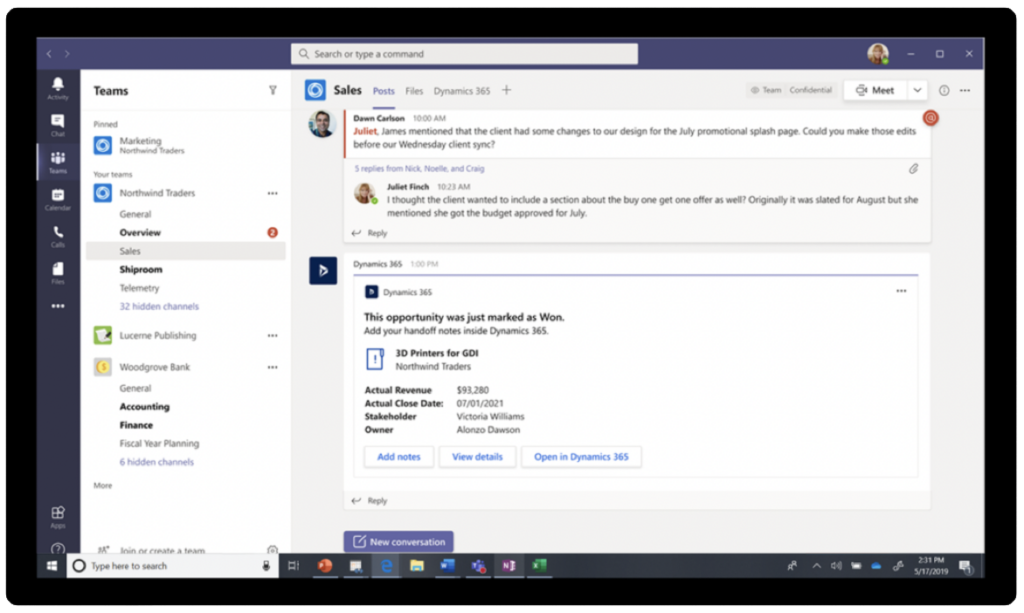 Examples of increased efficiency
• A service engineer can enable an agent to fix a customer's issue by adding notes with troubleshooting steps to the customer service case record.
• Finance teams can streamline order fulfillment, sharing purchase orders and payment details with their counterparts in sales.
• A field technician can notify sales teams about products nearing end-of-life, so the sales team can proactively reach out with replacement options.
• A sales team can close deals faster, by understanding signals from the marketing department around demand generation.
What to learn more about how your team can take advantage of these new integrations and licensing model? Click here to connect with a Dynamics 365 specialist today.