The Dynamics 365 release plan for 2021 promises many new upgrades and we're excited to share some of our favorites, including the Dynamics 365 Sales mobile app.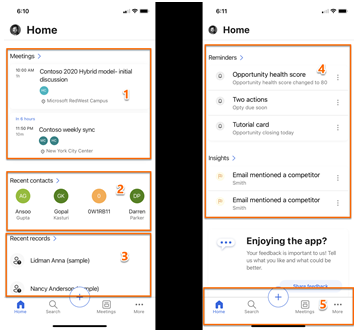 The Dynamics 365 Sales mobile app is specifically designed for core sales scenarios. Here are some highlights of this new mobile-friendly app:
Meeting cards now include more Dynamics 365 Sales data including opportunity details and notes. Quickly see entity, meetings, attendees, notes, and reminders.
Streamlined mobile app homepage. Cleaner and clearer icons provide quick access to key areas of information.
Push notifications driven by Relationship Assistant cards. The Reminders and Insights sections show action cards from the relationship assistant. The cards show up to three reminders and three insights. If your administrator has created custom cards, they can be shown here, too. Insight cards help keep you up to date with your work in Dynamics 365 Sales, letting you know when you need to follow up on an email, attend a meeting, and much more.
Improved search. When you start typing, suggested records are displayed. When you perform a search, the results are categorized according to the type of entity, such as contacts, accounts, leads, notes, and opportunities. Tap the record to view more details. You can also tap See all to expand the list for a category.
More friendly note taking experience. You can see the notes associated with a record in the Notes section of the record details and you can quickly add a new note.

Bottomline: The Dynamics 365 Sales mobile app helps you get more done:
Plan your day: Immediately see reminders about your customer meetings or insights for the day.
Do post-meeting work: You can quickly add notes, create contacts, and update data in relevant records.
Find required information and act accordingly: Find a contact you want or the most recent records you worked on.

If you'd like to find out more about converting to the Dynamics 365 Sales mobile app, get in touch with us here, or call us at 913-402-4599.